Rationing in the Second World War meant that people had to be creative with the little food that was available to them. As such, almost every recipe had to be adapted to suit wartime conditions. Sugars and other sweeteners were in very short supply, so people were encouraged to use honey as a substitute. Here are some examples of recipes that would have been used between 1939 and 1945.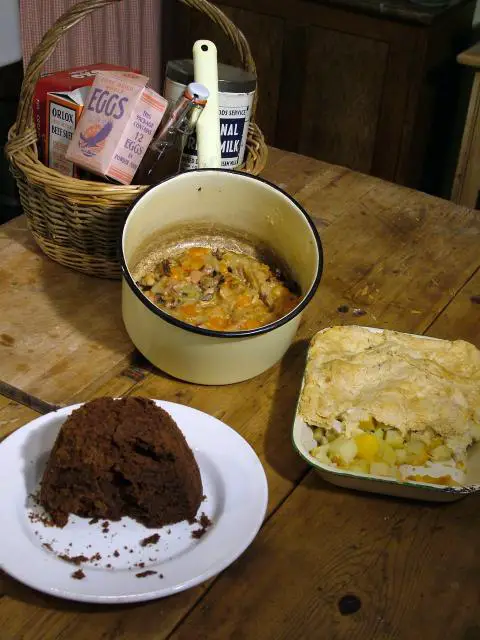 Rabbit Stew
Ingredients:
1 whole rabbit, cut into joints
1 tbsp vinegar
1oz flour
salt & pepper
1-2oz dripping
2 bacon rashers, de-rinded & chopped (if available)
2 medium onions, sliced
3 medium carrots, sliced
1 pint (600ml) water or stock
1 cooking apple
fresh herbs (as available)
Method:
Put the rabbit to soak in cold water with the vinegar for 30 minutes
Remove and dry well
Mix the flour with the salt and pepper and coat the rabbit joints
Heat the dripping and add the bacon rinds.  Then add the rabbit joints and cook steadily for about 10 minutes or until golden brown in colour
Remove from the pan
Add the bacon, onions and carrots and cook for 5 minutes then return the rabbit to the pan
Add the water or stock and the grated apple and stir as the liquid comes to the  boil and thickens slightly
Add the herbs
Bring to the boil and simmer for 30 minutes
Quickly put dish into the hay box and leave for 4 to 5 hours
Serve with seasonal vegetables
Bread Pudding
Ingredients:
225g (8oz) stale bread
50g (2 oz) grated suet
25g (1 oz) sugar
1 tablespoon marmalade
50g (2oz) dried fruit
1 reconstituted dried egg
milk to mix
ground cinnamon
Method:
Pre-heat the oven, Gas 4, 180C, 350F
Put the bread into a basin, add cold water and leave for 15 minutes then squeeze dry with your fingers
Crumble the bread to the basin
Add all the other ingredients and enough milk to make a sticky consistency
Add a pinch of cinnamon
Spoon into a greased  tin (20cm, 8″) and bake in the centre of the oven for 1 hour (or steam in a greased basin for 2 hours)
Remove from the steamer or oven and allow to cool for 10 minutes
Serve warm or cold
Prune Sponge
Ingredients:
8 oz. flour
1 oz. fat
1 tablespoon syrup
½ tablespoon mixed spice
½ teaspoon nutmeg
½ teaspoon bicarbonate of soda
Salt
Water or milk to mix
8-12 prunes
Method:
Rub the fat into the dry ingredients and mix to a soft consistency with syrup and milk or water.
Place the soaked stones prunes in the bottom of a greased basin, and pile the pudding mixture on top.
Cover with a greased paper and steam for 1 ½ – 2 hours.
Use the prune juice thickened with cornflour or custard powder as a sauce.
Woolton Pie (named after the Earl of Woolton – Minister for Food 1940-1943)
Ingredients:
1 lb diced potatoes
1 lb cauliflower
1 lb diced carrots
1 lb diced swede
3 spring onions
1 teaspoon vegetable extract
1 tablespoon oatmeal
Small portion of chopped parsley
Method:
Cook everything together with just enough water to cover, stirring often to prevent it sticking to the pan. Let the mixture cool.
Spoon into a pie dish, sprinkle with chopped parsley.
Cover with a crust of potatoes or wholemeal pastry.
Bake in a moderate oven until golden brown.
Serve hot with gravy.
Carrot Cookies
Ingredients:
1 tablespoon margarine
2 tablespoons sugar
A few drops of vanilla or almond for flavouring
4 tablespoons grated raw carrot
6 tablespoons self-raising flour or plain flour mixed with ½ teaspoon of baking powder
Extra sugar to sprinkle on top of the cookies.
Method:
Cream the margarine and sugar together until light and fluffy.
Beat in the flavouring and grated carrot.
Fold in the flour, or flour mixed with baking power.
Drop spoonfuls of the mixture into small greased patty pans.
Sprinkle the tops with the extra sugar and bake at 220C, 425F, gas mark 7 for about 20 minutes.
Sources:
http://cookit.e2bn.org/historycookbook/1505-rabbit-stew.html
http://cookit.e2bn.org/historycookbook/743-bread-pudding.html
http://recipespastandpresent.org.uk/wartime2.php
http://www.historylearningsite.co.uk/recipes_world_war_two.htm
Link/cite this page
If you use any of the content on this page in your own work, please use the code below to cite this page as the source of the content.
Link will appear as World War 2 Recipes: https://worldwar2.org.uk - WorldWar2.org.uk, June 24, 2014